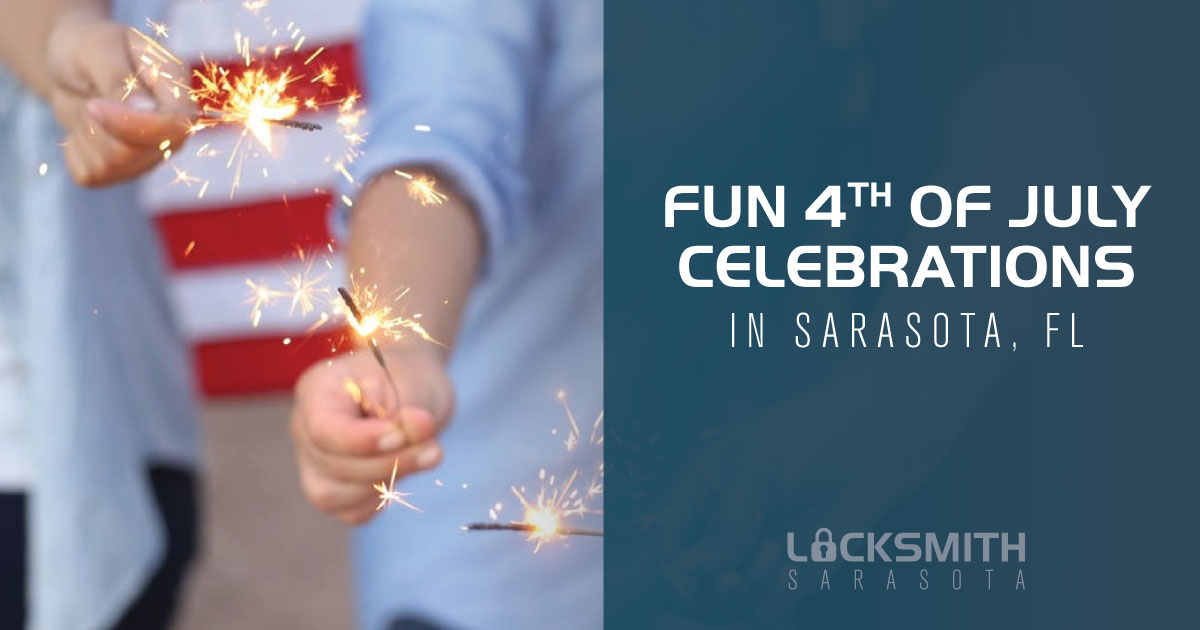 4th of July celebrations in Sarasota are always filled with fun in the sun for family members of all ages. Unfortunately, many of these celebrations have tempting triggers that could negatively affect your sobriety. Locksmith Sarasota wants to make sure you have a fun, stress-free and sober experience this 4th of July. Here is a guide to some fun events going on, providing wholesome fun for you and your loved ones.
A Week Full Of Activities
Sarasota takes its 4th of July celebrations very seriously. The community has turned the holiday into a week-long event that is jam-packed with activities for you and your family.
Sarasota Powerboat Grand Prix
The Aqua Plumbing and Air Grand Prix Golf Classic kicks off a week before the holiday weekend, leading up to race days on July 1-2.  This event takes place at The Meadows Country Club. Other Grand Prix events, including a 4th of July celebration, include a car show and personal boat or watercraft "fun runs."
Downtown Block Party
On July 3rd, stop by the block party between Orange and Palm Ave., on Lemon Ave. This event event will run from 4:00 p.m. to 12:00 a.m. The block party is free and hosts food, vendors and boats on display. During the block party, the boats will parade their way down Main Street.
Powerboat Races
Check out some local powerboats by the Bay from Friday, July 3rd – Sunday, July 5th. Here you can see all of the powerboats that are participating in the qualifying races. The races will take place at Lido Beach between New and Big passes.
Selby Garden BBQ and Independence Day Celebration
All-American favorites are available at Selby Gardens this 4th of July. BBQ is provided by Michael's On East for this event, which also features live music from SoulRCoaster and other family activities. This celebration is meant for all ages.
Selby Garden BBQ and Independence Day Celebration
Sarasota Fireworks
Enjoy a fireworks spectacular over Sarasota Bay on the evening of the 4th of July. A free fireworks will be ignited from a boat in the middle of the bay, offering great views from anywhere downtown. The show begins at dusk or roughly around 9:00 p.m.
Siesta Key Fireworks
Siesta Key presents their 27th Annual 4th of July fireworks show. The fireworks are set to go off around 9:00 p.m. The best views of these fireworks will be found south of the site and along Crescent Beach.
Host Your Own 4th Of July Party
There are plenty of activities for you and your family to attend this 4th of July, but it's important to prioritize your recovery. If you think that you would be more successful celebrating from home, host your own party. Invite friends and family over who are supportive of your recovery and have a great time celebrating without substances.
Be Ready For Anything
It is impossible to know exactly what to expect at these events, or to completely avoid any triggers that could negatively impact your sobriety. Come up with a backup plan and be prepared to leave if you feel the need. If you know that eating, drinking and socializing will be a major part of the event, bring your own beverage. You way even want to bring a sober friend along to the event for support.
The 4th of July is a celebration of our independence as a nation. Make the most out of this holiday and celebrate the strides you have made to be free from addiction. Locksmith Sarasota is available to suggest other substance-free ways to celebrate the holiday. It is our goal to give you the skills you need to confront these stressful situations with confidence.