Locksmith Sarasota not only serves residential customers, but we also work closely with many businesses and commercial property owners in the Sarasota, FL area.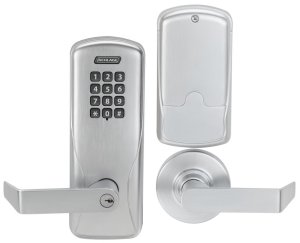 We have the best and the most convenient commercial locksmith services and products that can help you in maintaining the security and protection of all your business-related properties.
Apart from our installation, repair, replacement and maintenance locksmith services, we also have the ability to upgrade security systems on your commercial properties, helping you better safeguard your business assets.
Emergency Commercial Locksmith in Sarasota, FL
Is there a door at your place of business that you can't get open, or are you locked out of the building completely? Give Locksmith Sarasota a call, and we'll be at your property within 25 minutes after you hang up the phone. No matter the hour of the night nor the weather conditions, we promise to respond to your problem with the utmost urgency. Emergency situations can be very distressing, and we're here to help. Our reliable, affordable and efficient emergency locksmith services are at your disposal 24 hours a day and anywhere in Sarasota, FL.
Commercial Locksmith Services
Other than having locksmiths on standby for any emergency issues you may have at your place of business, we also offer a wide range of commercial locksmith services in Sarasota, FL. Essentially, if the security of your property needs a boost in any way, we're here to find solutions for you. Our featured commercial locksmith services include:
Installing new commercial locks
Re-keying and repairing existing locks
High security and protected locks
Push bar repair and installation
Master key security system
File and cabinet locks
Surveillance system upgrades
These are just some of the services we offer at Locksmith Sarasota. We are open to other upgrades and advancements your commercial property may need in order to make sure that everything is in its proper place and condition.
From lost keys to locked doors or if you just need to install new locks on your property, we are here to deliver the best commercial locksmith services in Sarasota. Our professional locksmith technicians are proficient when it comes to the state-of-the-art machinery and tools involved in solving your business' needs. We utilize the most advanced and high-tech equipment in order to effectively and immediately fix all your commercial problems in the safest and the best way we can.
Need some help in upgrading the security of your commercial property?
Call Locksmith Sarasota today: (941) 888-7518