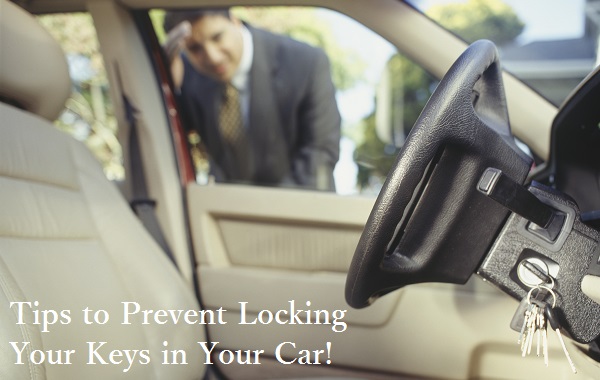 Few things are more frustrating than locking yourself out of your car. It never seems to happen at a convenient time or in a convenient place. You will probably be rushing to get somewhere, which will only increase your stress level.
Here are a few easy ways to prevent car lockouts, and the frustrations that come with it. However, if you do end up getting locked out of your vehicle, Locksmith Sarasota is available 24/7 to come to your rescue!
Tips To Prevent A Car Lockout
Check out these simple and effective tips that anyone can do to prevent locking their keys in the vehicle:
Never Lay Keys Down Inside Car – Immediately Put In Pocket, Purse Or Hand
One of the most common reasons for a lockout is locking the keys in the trunk. You put the keys down to rummage around and when you find what you are looking for, you forget to pick up the keys before you close the trunk. This is easy to avoid if you make a point of putting your keys in your pocket or keeping them in your hand when searching for something in the trunk.
Many modern vehicles have sophisticated electronic systems that make it difficult, if not impossible, to lock the keys inside the car. That does not mean it never happens. Resist the urge to place the keys on the seat because you may not see them when you exit the car. Keep your keys on a brightly colored or heavy key chain so they are easy to notice. Get in the habit of placing your keys in your pocket or purse immediately after removing them from the ignition.
Check Car And Replace Key Fob Batteries Periodically
Something as simple as a dead battery in the car or its remote key system can cause a lockout. Check the batteries periodically and replace them when necessary to eliminate having this preventable problem occur.
Have A Set Of Spare Keys
Hiding a spare key on the outside of a vehicle is risky because car thieves know about all the best hiding places. You should however, keep at least one set of spare keys in a convenient location. You can leave a set of keys at work, store a set in your house or even leave a set with a friend, family member or neighbor.
Skilled Locksmith Professionals In Sarasota
If you do find yourself locked out of your car, the skilled locksmith professionals at Locksmith Sarasota will help you get back on the road again, safely and quickly. We offer competitive rates and prompt response times. We are also fully insured, bonded and licensed. Why trust your car or time with anyone else?
Check Out Our Automotive, Residential, Commercial,
Security Locks/Systems, Re-keying & Emergency Services