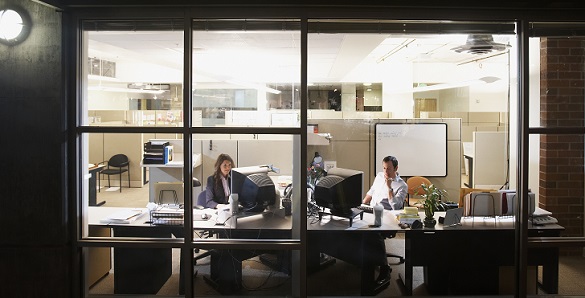 You may not immediately think that your office would be a likely target for burglars, but that's not necessarily the case. Most people think of shopping centers, pharmacies, banks or upscale private homes as being higher-risk targets.
However, criminals know that these potential sources of money or property are likely to have high-tech security in place, whereas small businesses are less likely to have invested in these systems. Burglars and thieves are looking to make a quick "in and out" type of office invasion.
Basic Office Building Security
If you are interested in office security you will need to consider whether you have people and property in need of protection after dark, or if you just simply need to keep the building and its contents secure.
If you have employees who will be working late, you will need to look at hiring security personnel who will be present until the last one is safely on their way home.
For building security, you can install video surveillance cameras as a crime-fighting measure.
Inexpensive Building Security System Tips For Small Businesses
An Unmonitored Alarm System – Sets off an alarm inside and outside when triggered. This would most likely scare off an intruder before a lot of damage could be done to the property. It is an economical choice, since no monitoring fees would be incurred.
A Monitored System – Will contact a call center if the alarm is triggered; the call center will alert the police. The vulnerability in this system is that it relies on the phone lines being intact, and a skilled burglar may cut them before gaining access to the building. The burglar can still damage or remove items before police arrive.
A Wireless System – Is relatively inexpensive and is a good choice to start with. You can buy one at a hardware store and install it yourself. It includes cameras, sensors and motion detectors. You can also find one that has an alarm and flashing lights.
An Exterior System With A Motion Detector – Triggers a light to come on and a loud alarm when someone approaches a door or window. This may be enough to startle someone who may be intent on trying to enter the building illegally or cause damage to the outside.
Choose What Is Best For Your Business
Before you make a decision about the best way to keep your office safe, take some time to consider your options carefully.
Talk to professionals who service commercial clients and ask for their recommendations.
Contact the local police to ask about average response time for monitored systems.
Conduct your own research about different types of alarm systems online. The Internet has a wealth of information to help you find the right one.
Security Experts For Commercial Properties
If you need help upgrading the security of your office building, call the experts at Locksmith Sarasota today!
Call Us Now – 941-281-4100
Be Sure To Check Out Our Top Home Security Tips For Recommendations On How To Keep Your Home Safe!